tendremos visita ilustre para la Bicicrítica de Junio y un encuentro con la historia

Vendrá Chris Carlsson, uno de los pioneros de la masa critica de San Franscio, la primera de todas

La Critical Mass de San Francisco cumple además su 20 aniversario en septiembre. Para celebralo han recopilado un libro con las experiencias de masa critica alrededor del mundo. Por supuesto Madrid esta presente en el libro.
Chris Carlsson y otras personas que han contribuido con el libro, lo presentarán próximamente en Madrid.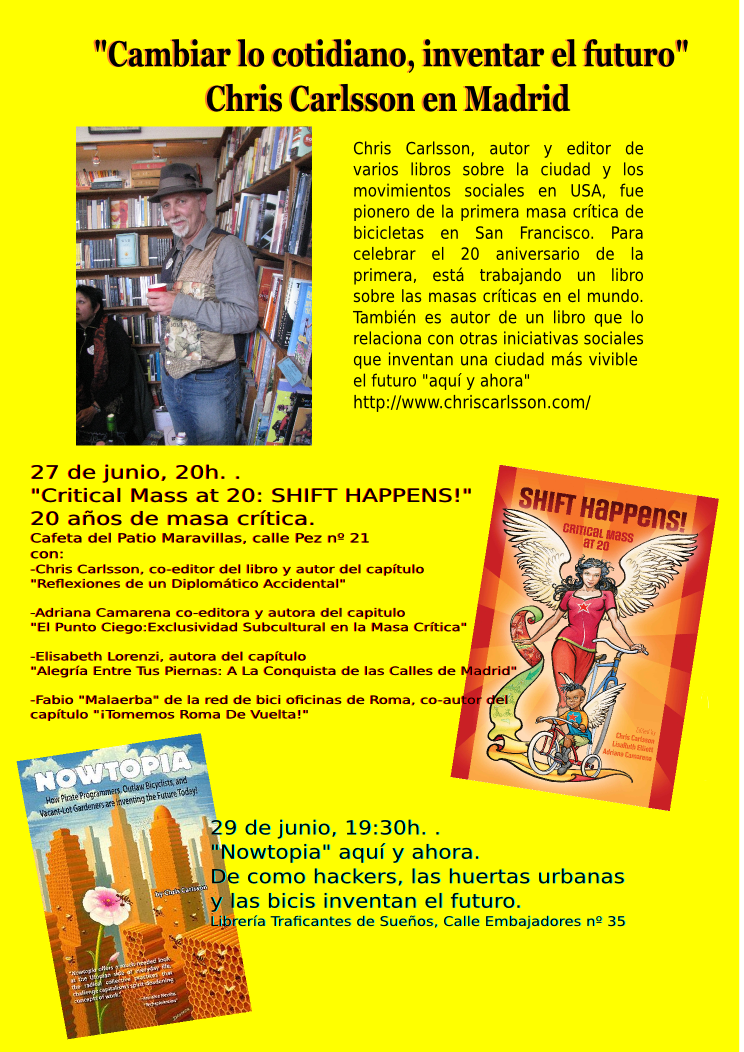 27 de junio, 20h.
Cafeta del Patio Maravillas, calle Pez nº 21
"Shift Happens! Critical Mass at 20" (¡El Cambio Ocurre! La Masa Crítica a sus 20 años) editado por Chris Carlsson, LisaRuth Elliot y Adriana Camarena
en la presentación del libro estarán:
-Chris Carlsson, co-editor del libro y autor del capítulo "Ruminations of an Accidental Diplomat" (Reflexiones de un Diplomático Accidental)
-Adriana Camarena co-editora y autora del capitulo "The Blind Spot: Subcultural Exclusivity in Critical Mass" (El Punto Ciego: Exclusividad Subcultural en la Masa Crítica)
-Elisabeth Lorenzi, autora del capítulo "Alegría Entre Tus Piernas": To Conquer Madrid's Streets (Alegría Entre Tus Piernas: A La Conquista de las Calles de Madrid) 
-Fabio "Malaerba" de la red de bici oficinas de Roma, co-autor del capítulo "Let's Take Back Rome!" (¡Tomemos Roma De Vuelta!)
-Carlos Diz Reboredo. "San Francisco en A Coruña: la Masa Crítica como prototipo de acción global"
La charla será en inglés y español, gallego e italiano (con traducciones simultaneas y espontaneas, y por tanto con variadas interpretaciones transgiversadas :-)
29 de junio, 19:30h.
Librería Traficantes de Sueños, Calle Embajadores nº 35
"Nowtopia" aquí y ahora. De como hackers, las huertas urbanas y las bicis inventan el futuro.
Chris Carlsson presentará  otro libro que pone en relación las Masas Críticas con otras iniciativas que construyen en el presente la ciudad sostenible que queremos
http://bicicritica.ourproject.org/20-aniversario-critical-mass-san-franscisco-presentacion-madrid-libro-chris-carlsson-27-junio